The good times of carnival season wouldn't be possible without hard work and sacrifice by NOPD officers. Most work long shifts along parade routes for days-on-end with little to no time off.  Adopt-A-Cop Mardi Gras Support lets the community show how much we appreciate our Krewe in Blue by providing them with much needed hot meals, healthy snacks, and beverages to enjoy during the long days and nights of Mardi Gras. There would be no Purple, Green and Gold without the Blue!
The recommended minimum donation to adopt-a-cop is $10.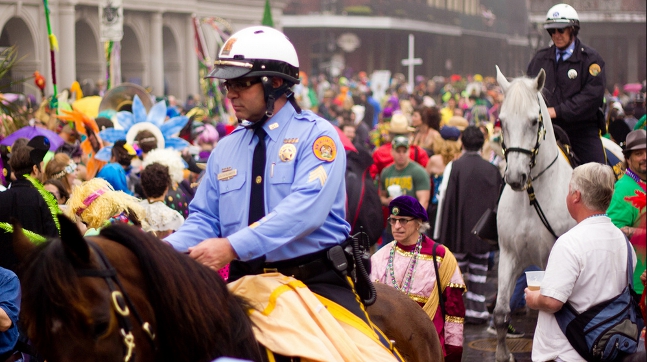 As much as we all need the police, don't forget they need us. This holiday season please join us in our important work by contributing as generously as you can. Your tax-deductible gift supports our effort to make New Orleans a safer place to live, work, and visit.
Your donation is needed now more than ever. The Foundation is an independent 501 (c) (3) nonprofit organization providing support for efforts that enhance police/community relations, crime prevention, and public safety through funding for specialized equipment, training, and cooperative community programs.
Our organization's financial statements are audited annually by an external accounting firm (Postlethwaite & Netterville). Our annual 990 IRS information return is also prepared by Postlethwaite & Netterville, copies of which can be viewed on GuideStar's website.
Your financial contributions will support a wide range of public safety initiatives and will help ensure that public safety professionals have the resources they need to protect the public.
Donate today to invest in a safer tomorrow!