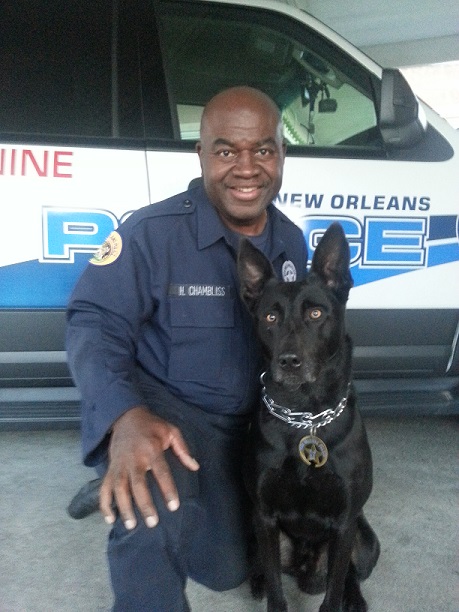 1) The NOPD K9 unit is made up mainly of Belgian Shepherds, not German Shepherds. Belgian Shepherds are also called Malinois, and are very similar to German Shepherds.
2) NOPD K9s speak Dutch, not English. NOPD K9s spend the first two and half years of their lives in Belgium, where they are trained by Dutch speaking dog trainers.
3) Each K9 has a particular job. There are three types of K9s in the NOPD, and each dog is trained for its specific application. Apprehension K9s are trained to find people. NOPD uses Apprehension K9s to find missing persons and also to hunt fugitives. Munition K9s are the second type of NOPD K9, and they are used to find bombs, munitions, and guns. Narco K9s are the last type of NOPD K9, and they used to find illegal drugs.
4) NOPD K9s are constantly trained and tested. Every year NOPD's K9s are tested by independent national K9 associations to ensure their accuracy and credibility.
5) Munition K9s are so intelligent, they can find a bullet in a banana tree. Munition K9s are most often thought of as 'Bomb Dogs,' but in reality they work to find bullets and casings on a more regular basis than bombs.
6) NOPD K9s are trained to ignore other cats and dogs. Malinois have tremendous drive and discipline which enables them to ignore distractions and focus on the task at hand.
7) NOPD K9s become part of an officer's family. NOPD K9s are assigned to a specific officer when they join force, and the two become a single police unit. When the police officer finishes his shift, he brings his K9 home with him.
8) NOPD K9s get to live with their officer after they retire. NOPD Officers are given the option of keeping their K9 after it has retired.
9) Each NOPD K9 lives to be about 11. This gives the NOPD handler roughly a decade to spend with their four legged partner.