The mission of the New Orleans Police & Justice Foundation is to make New Orleans a safer place in which to live, work and visit. We accomplish this by promoting excellence in policing, efficiency in criminal justice and positive community engagement.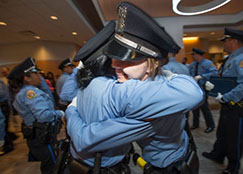 Officers
The Tragedy Fund, administered by NOPJF, has provided over $140,000 to seriously injured officers and their families in their time of need.
NOPJF's Tuition Assistance Program offsets the cost of college for NOPD employees.
From personal protective gear to horses and canines, NOPJF is filling gaps by providing officers with the equipment and supplies they need to keep us safe.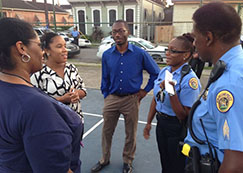 Community
NOPJF's Cops for Kids Program provides a safe, enriching environment for 150 at-risk New Orleans youth every year.
New Orleans citizens are helping NOPD identify suspects and solve crimes by registering more than 4,000 private security cameras through NOPJF's SafeCamNOLA.com.
NOPJF's groundbreaking Adopt-a-Block initiative is helping residents install private security cameras in high crime hot spots.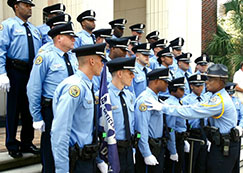 Department
NOPJF's JoinNOPD.org Campaign is recruiting the next generation of police officers.
NOPJF's OPISIS Technology initiative makes NOPD more efficient and effective by providing real time data and cutting edge crime analysis software.
NOPJF's training investments bring world-class leadership development courses and law enforcement best practices to NOPD officers.
The NOPJF's voluntary Board of Directors includes a cross-section of New Orleans citizens involved in business, tourism, religious practice, and other endeavors within the community who share a commitment to supporting NOPD and a safer New Orleans.
Click here to view our Board of Directors
Greg Rusovich
Chairman
Rick Haase
Vice Chairman
Robert W. Brown
Treasurer
Skipper Bond
John Casbon *
Jim Cook
Karen DeBlieux
Larry DeMarcay III
Stacey Dorsey
Brooke Duncan III
John Eastman
Terry Ebbert
Dean T. Falgoust
Alan Franco
Aimee Freeman
David Kerstein *
E. James Kock, III
Stephen Kupperman
Rita Benson LeBlanc
James Letten
Carol Markowitz
Carl Mixon *
Toni Mobley
Marshall L. Posey, Jr.
James J. Reiss III
Andre Robert
W. Patrick Schindler
David Schulingkamp
Sandra Shilstone
Dorothy (Dee) Taylor
Benjamin Tiller
Iam Tucker
Robert Vaughn
T. Semmes Walmsley
Kurt Weigle
Jim Wilkinson *
Tom Winingder
*Emeritus Trustees
Programs & Direct Support
Personnel & Operating Expenses
Charity Navigator gives NOPJF four stars out of a possible four star rating, indicating that our organization "adheres to good governance and other best practices that minimize the chance of unethical activities and consistently executes its mission in a fiscally responsible way."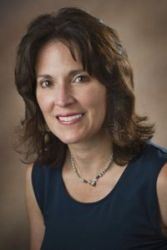 Melanie Talia, J.D.
President & CEO
Melanie A. Talia is the Chief Executive Officer of the New Orleans Police and Justice Foundation. She directs the Foundation in its ongoing role as a principal fiduciary agent, negotiator and advisor to all members of the criminal justice system in Orleans Parish. Prior to joining the NOPJF, Melanie was an Assistant District Attorney in Orleans Parish for 17 years where she prosecuted capital cases and other violent crimes.
Annette Bodden, CPA, CGMA
Chief Financial Officer/Vice President
Annette is a licensed Certified Public Accountant in the state of Louisiana and a member of American Institute of Certified Public Accountants and Society of Louisiana Certified Public Accountants. She received her Bachelor of Science degree in Accounting from Our Lady of Holy Cross College in New Orleans with honors.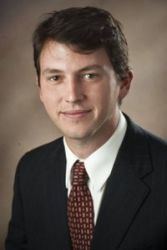 Nathaniel Weaver
Program Director
Nathaniel Weaver manages wide ranging efforts to rebuild and enhance the capacity of criminal justice agencies in Orleans Parish. Current grants under his direction include projects to enhance justice information sharing and to improve the operational capacity of criminal justice agencies.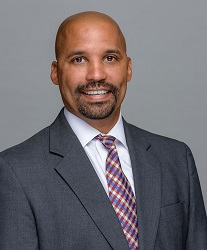 LaMont Hayes
Director of Development
LaMont A. Hayes is the Director of Development for the Foundation. In this capacity, he serves as the chief fundraiser, responsible for developing and managing relationships with key constituencies that ultimately ensures the overall success of the Foundation. Prior to joining the foundation, he served as Senior Development Officer at Xavier University of Louisiana. He has sixteen years of professional experience in the development and fundraising arena and has been personally involved with raising more than $300 million during this time. LaMont holds a B.A. in Criminology/Criminal Justice from the University of Maryland College Park.
To contact the NOPJF please email